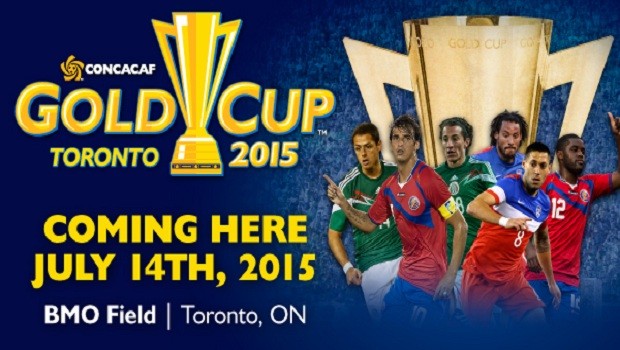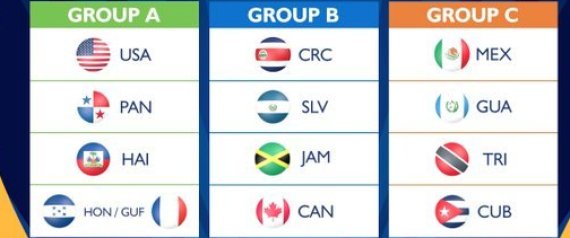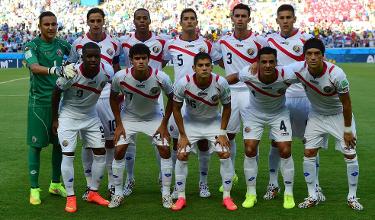 La Selección Nacional de Costa Rica enfrentará a El Salvador, Jamaica y Canadá en la fase de grupos de la Copa de Oro 2015, tras el anuncio que hizo la Concacaf este jueves.
El equipo nacional encabeza el grupo B, como se tenía previsto desde diciembre anterior. Su debut será el 8 de julio ante los jamaiquinos en el estadio StubHub Center de Carson, en California.
Su segundo partido lo disputará ante El Salvador en el BBVA Compass Stadium de Houston el 11 de julio y finalizará la fase de grupos ante Canadá en el BMO Field de Toronto el 14 de julio.
Por otra parte, en el grupo A quedó encuadrado Estados Unidos, Panamá, Haití y Honduras o Guayana, que deben jugar una serie a dos juegos para definir cual accede al certamen.
En el grupo C está México como cabeza de serie, junto a Guatemala, Trinidad & Tobago y Cuba.
La Copa de Oro inicia el 7 de julio.
SAN SALVADOR. CONCACAF reveló este día los grupos y el calendario para la Copa Oro 2015, que se realizará del 7 al 26 de julio en Estados Unidos.

El Salvador se ubicó en el grupo B junto a Costa Rica, Jamaica y Canadá; mientras que el grupo A lo forman Estados Unidos, Panamá, Haití, Honduras o Guyana.

El grupo C lo conforman las selecciones de México, Guatemala, Trinidad y Tobago y Cuba.

El evento se disputará en las ciudades de Atlanta, Baltimore, Boston, Charlotte, Chicago, Dallas, Houston, Kansas City, Los Ángeles, Nueva York, Filadelfia, Phoenix y Toronto.

Por primera vez desde la edición de 2003, la Copa Oro presentará un partido por el tercer puesto, que se jugará el sábado, 25 de julio en el PPL Park - un día antes de la gran final - convirtiendo el fin de semana de finales de la Copa Oro en Filadelfia.

"Anticipamos una Copa Oro excepcional en 2015, con una gran final de fin de semana que se jugará aquí en Filadelfia, una ciudad con una afinidad especial para el deporte global", dijo el Presidente de CONCACAF, Jeffrey Webb. "El deporte nunca había sido tan popular en toda la Confederación, y la Copa Oro de este año - la joya de la corona del fútbol regional - sin duda demostrará como nunca antes la pasión por el juego de nuestra región".

Los cuartos de final de la Copa Oro 2015 se jugarán en M&T Bank Stadium de Baltimore y en el MetLife Stadium de Nueva Jersey, el sábado, 18 de julio y el domingo, 19 de julio, respectivamente. Los ganadores de los cuartos de final, se trasladarán luego a Atlanta para las semifinales en el Georgia Dome, el miércoles, 22 de julio, antes del fin de semana de la Gran Final del torneo en Filadelfia.
Todos los niños que han alcanzado su segundo cumpleaños requieren un boleto para el evento.
Secciones de hinchas canadienses son 112-118 en el extremo sur del estadio, la sección simpatizante de El Salvador es de 127, las secciones de aficionados costarricenses son 104-105, y las secciones de aficionados jamaicanos son 104-105.
El BMO Field, también conocido como Estadio Nacional de Canadá es el estadio de fútbol de la ciudad canadiense de Toronto. Su capacidad es de unos 23.236 espectadores.
Dirección: 170 Princes' Blvd, Toronto, ON M6K 3C3
Capacidad: 20.195
Inauguración: 28 de abril de 2007
Teléfono: (416) 263-5700
Provincia: Ontario
Equipos: Selección de rugby de Canadá, Toronto FC, Selección de fútbol de Canadá
Calendario completo
7 de julio 2015
Toyota Stadium (Frisco, TX)
Panamá vs. Haití
Estados Unidos vs. Honduras/Guayana Francesa

8 de julio 2015
StubHub Center (Los Ángeles, CA)
Costa Rica vs. Jamaica
El Salvador vs. Canadá

9 de julio 2015
Soldier Field (Chicago, IL)
Trinidad y Tobago vs. Guatemala
México vs. Cuba

10 de julio 2015
Gillette Stadium (Boston, MA)
Honduras / Guayana Francesa vs. Panamá
Estados Unidos vs. Haití

11 de julio 2015
BBVA Compass Stadium (Houston, TX)
Jamaica vs. Canadá
Costa Rica vs. El Salvador

12 de julio 2015
University of Phoenix Stadium (Phoenix, AZ)
Trinidad y Tobago vs. Cuba
Guatemala vs. México

13 de julio 2015
Sporting Park (Kansas City, MO)
Haití vs. Honduras / Guayana Francesa (FOX Sports 1 / UDN)
Panamá vs. Estados Unidos (FOX Sports 1 /UniMás)

14 de julio 2015
BMO Field (Toronto, CAN)
Jamaica vs. El Salvador (FOX Sports 1 / UniMás)
Canadá vs. Costa Rica (FOX Sports 1 / UniMás)

15 de julio 2015
Bank of America Stadium (Charlotte, Carolina del Norte)
Cuba vs. Guatemala (FOX Sports 2 /UniMás)
México vs. Trinidad y Tobago (FOX Sports 2 /UniMás)

18 de julio 2015
M&T Bank Stadium (Baltimore, MD)
1A vs. 3B / C* (FOX / Univision)
2A vs. 1B* (FOX Sports 2 / Univision)

19 de julio 2015
MetLife Stadium (Nueva York, NY)

1C-3A / B* (FOX Sports 1 / Univision)
2C-2B* (FOX Sports 1 / Univision)

22 de julio 2015
Georgia Dome (Atlanta, GA)
SF 1* (FOX Sports 1 /UniMás)
SF 2* (FOX Sports 2 / UniMás)

25 de julio 2015
PPL Park (Filadelfia, PA)
3er Lugar (FOX Sports 2 / Univision)

26 de julio 2015
Lincoln Financial Field (Filadelfia, PA)
Final del Campeonato (FOX Sports 1 / Univision)
BMO Field is set to host a CONCACAF Gold Cup doubleheader in Group B action on Tuesday, July 14. The first match is scheduled for a 6:00 p.m. ET kick-off with Jamaica facing El Salvador. At 8:30 p.m. ET Canada will meet Costa Rica.

Tickets to all Gold Cup matches will be available to the general public starting on Thursday, March 19 at 10:00 a.m. (local time in all markets) by www.GoldCup.org.

To date, eleven of the twelve national teams scheduled to participate have qualified for this year's tournament. Canada, Costa Rica, Cuba, El Salvador, Guatemala, Haiti, Jamaica, Mexico, Panama, Trinidad & Tobago and the United States, in alphabetical order, will compete for the Confederation Crown in July.

The final spot will be decided in late March through a play-in series between the fifth-place finisher of the 2014 UNCAF Central American Cup (Honduras) and the 2014 Caribbean Football Union Caribbean Cup (French Guiana). French Guiana will be home team for the first leg on March 25, while Honduras will host the return leg on March 29.

Taking place every two years, the Gold Cup has established itself as the region's most popular national team tournament. Featuring the Confederation's best players from 12 top nations, the competition routinely draws capacity crowds and millions of television viewers across the region and around the world.

The 2015 CONCACAF Gold Cup will mark the first time that Canada will play co-host in tournament history. The region's marquee event will be played throughout North America from July 7-26. Canada's first soccer-specific stadium, BMO Field is located at Exhibition Place in Toronto and plays home to Canada's National soccer team, as well as Toronto FC, Canada's first Major League Soccer team. In its inaugural summer, BMO Field hosted over 260,000 fans during 12 games as the main venue for the FIFA U20 World Cup. Since 2007, BMO Field has welcomed over three million fans and has hosted a multitude of events, including the 2010 MLS Cup. Last summer, BMO Field hosted a number of matches as part of the 2014 FIFA U20 Women's World Cup.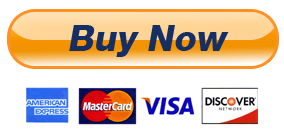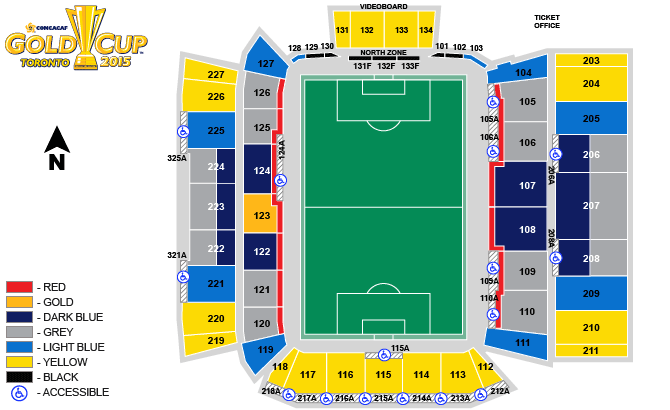 Recomienda esta pagina a un amigo Visitas