Organizado por: JEP Conciertos
Lugar: Montecassino Convention Centre
Dirección: 3710 Chesswood Drive (cerca de Sheppard ave. y Keele st.)
Fecha: Sábado, 18 de mayo
Regular $65
En este mes de Mayo en su gira por Canada y festejando a mama, por primera vez en Toronto JERRY RIVERA en Concierto!!!!!
Una verdadera leyenda musical cantando los mejores de sus exitos especialmente dedicados a la mujer mas importante de nuestra vida!!! NO TE LO PUEDES PERDER! Unica presentacion en la ciudad.

El cantante puertorriqueño Jerry Rivera se presentará en Toronto el próximo 18 de mayo para celebrar con salsa el Día de las Madres. Precisamente la madre de Rivera también era cantante fue la principal influencia para la pasión por la música de este salsero, que la acompañaba de pequeño a todas sus actuaciones.
Come celebrate Mother's day this May 18th 2013 with Jerry Rivera live in concert!! For the very first time and with the only show in Western Canada a live legend of the salsa industry singing to the most important lady of our lives.

That's right!!! So bring your best dancing shoes and get ready for a night full of magic, music and entertainment.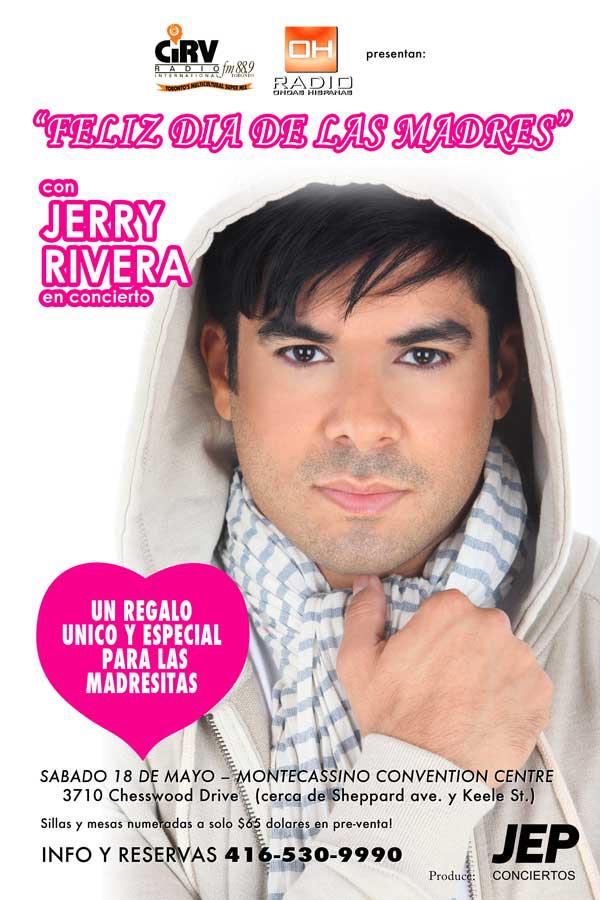 Recomienda esta pagina a un amigo Visitas