June 10, 2013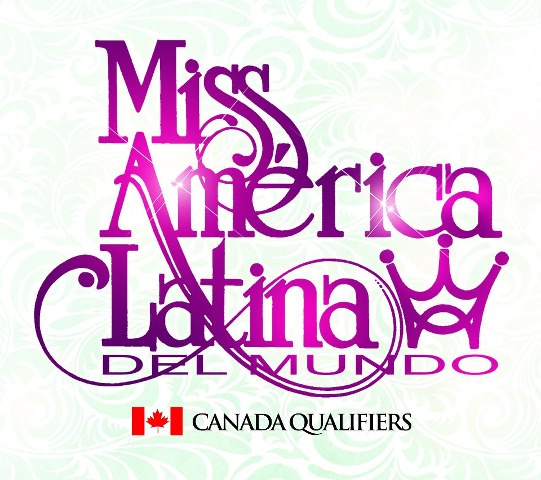 Ottawa, ON - June 7, 2013 - JEP AGENCY INC. brings forward another respectable event, Miss America Latina del Mundo; a pageant that originated in Miami honoring the beauty of Latinas in more than twenty countries. The pageant is set to take place in Canada for the first time ever and will be holding its first contest in Toronto. The winner will go on to represent Canada in the grand finale where she will compete against other Latin American delegates from around the world in Riviera Maya, Mexico.
The search for Miss Canada Latina 2013 will take place in Toronto on July 19, 2013 at The Mirage Banquet and Convention Centre. It will include over thirty Latina beauty contestants giving the winner a car and $2000 along with many other incentives and prizes such as fine jewelry, a brand new wardrobe, and one week stay at Hotel Barceló in Riviera Maya, Mexico. The Toronto successor will then go on to participate in the international pageant in Mexico where she will have the chance to be crowned by reigning 2012 Miss America del Mundo, Georgina Mendez Pimentel from Guatemala.
The pageant will comprise of seven judges and will be hosted by Keiter Feliz from Toronto's Spanglish radio station 360 FM. President of JEP Agency, Jorge Perez-Yanez, who has been noted for his work by Billboard Magazine is proud of his decision for having bought exclusive rights to the franchise of Miss America Latina del Mundo for Canada; an event that celebrates Latin identity. He states, "I am very grateful to be doing this event for all Hispanics in Canada. It is important to me that our growing population of Latinos in Canada have an event like this to look forward to. May our future generations continue to educate themselves and inspire others". There has been a great response within Canada from Hispanic communities and media outlets for next month's pageant, which is a great predictor of the event's success.
The competition was created with the purpose of uniting Latin American women to an event that promotes a sisterhood among nations and encourages their intellectual and professional well-being. The ideal goals of the contest are to highlight the values ​​of Latin American women throughout the world through by emphasizing their developing efforts to attain higher education as well through charitable actions within their community. The pageant includes all single women of Latino or Hispanic heritage between the ages of 18 - 27. Although registrations to qualify are now closed, next year calls for more Canadian cities to be included giving the opportunity to other Latinas who were not able to make it this year.
About Miss America Latina Del Mundo
Miss America Latina pageant started in 1981 as a local competition among Latin American youth to select the representative of Miami to a contest in Mexico. The second year the enthusiasm for thiscompetition increased to the point that journalists from Panama, Colombia and Venezuela were attracted to the event, disseminating reports to their respective countries. Today Miss America Latina del Mundo is one of the most important and prestigious beauty pageants in the world and is held everyyear at the elegant Hotel Barcelo in the Riviera Maya in Mexico, the world contest winner getscrowned queen and gains international prestige.
JEP AGENCY INC.
Founded in 1995 by Jorge Eduardo Perez, JEP AGENCY INC. is the lead agency in the production of events, advertising and representation of artistic talents within the Latino Canadian market. With over fifteen years of experience, JEP AGENCY INC. represents significant national and international companies, in addition to producing large festivals throughout the country and especially concerts for many Latin music stars, such as Luis Miguel, Juanes, Ricardo Arjona, Aventura, Prince Royce, JerryRivera, Marco Antonio Solis, Chayanne, Carlos Vives, Fonseca and others. The work and commitment of JEP AGENCY INC. towards the development of the Latin music industry in Canadahas been recently recognized by Billboard magazine.
###
For more information on Miss America Latina Del Mundo (Canada):
JEP AGENCY
JORGE PEREZ-YANEZ
Official websites:
Media & Publicity
The Socialite Agency
Jacqueline Bonilla
Jackie@TheSocialiteAgency.com
Posted by Rigoberto Solano. Posted In : EVENTOS LATINOS EN CANADA