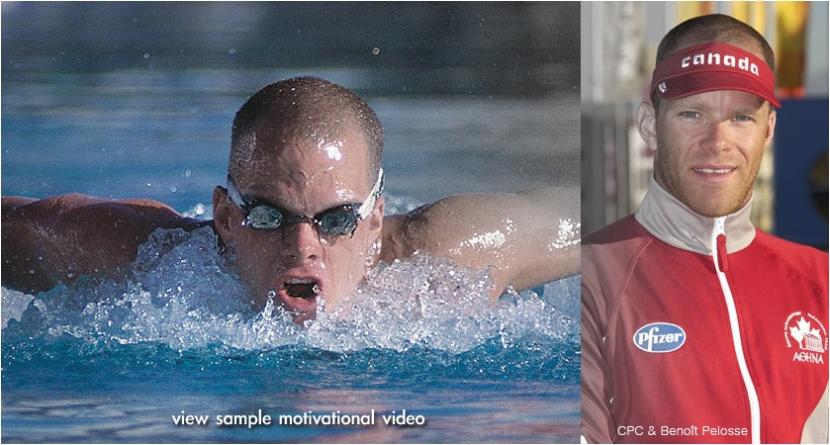 Invitado Especial Andrew Haley
El nadador paralímpico y del superviviente del cáncer
Otra gran razón para asistir a este evento gratuito el sábado, 2 de mayo 2015.
Escuela Primaria St. Jude Fundación Bowen Comunidad Evento @ 3251 Weston Road
Para obtener más información. 416-401-8999
Special Guest Speaker Andrew Haley
Paralympic Swimmer and Cancer Survivor
Another great reason to attend this FREE EVENT on Saturday, May 2nd 2015.
Bowen Foundation Community Event @ St. Jude Elementary School 3251 Weston Road
For More info. 416-401-8999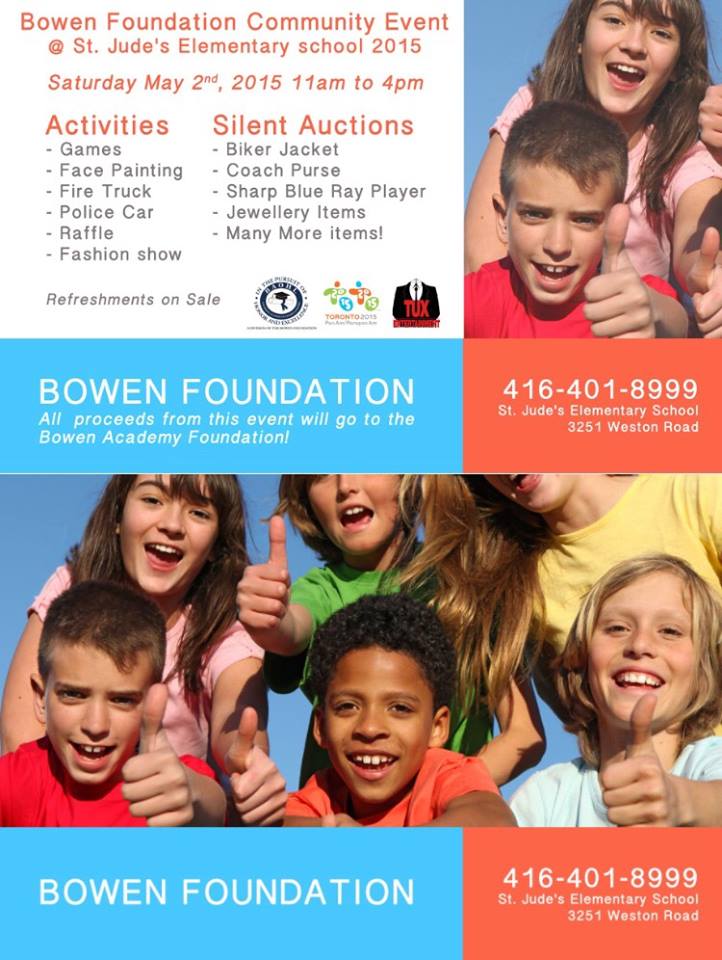 ** EVENTO GRATIS **

Fecha: Sabado 2 de Mayo 2015
Hora: 11:00am - 4:00pm
Lugar:
St Jude's Roman Catholic Church
3251 Weston Rd
Toronto, ON

¿Qué es la Fundación Bowen?
La Fundación Bowen es una organización sin fines de lucro con sede en la ciudad de North York desde 2009. La esencia de por qué existimos es, para empoderar a nuestra comunidad. Lo hacemos a través de programas académicos, deportivos y sociales.

NUESTRO LEMA: El conocimiento es como el oxígeno, no se puede vivir sin él.
_____________________________________________

Este año, se le invita a unirse a nosotros para nuestro evento anual de recaudación de fondos de la comunidad y que está destinada a recaudar fondos para mejorar nuestro club de tareas y programa de natación.
Nuestro objetivo de recaudación de fondos de este año es de $ 30,000.00. Estos fondos serán utilizados para la compra de una mini-furgoneta que se utilizará como un autobús escolar para recoger a los niños y de transporte de sus escuelas individuales a varios lugares de la Fundación Bowen.

_____________________________________________

Actividades:

- Juegos
- Pintura de la cara
- Camión De Bomberos
- Coche De Policía
- Rifa
- Desfile de moda

Subasta Silenciosa:

- Chaqueta Bike
- Monedero Entrenador
- De Sharp Blue Ray jugador
- artículos de joyería
- Muchos más artículos!


REFRESCOS EN VENTA

Todas las ganancias de este evento irán a la
Fundación Bowen Academia
La Fundación Bowen

El Club de Natación Bowen: faculta a la comunidad a través de la natación. Promover la cooperación y el espíritu de equipo entre los miembros del equipo de natación y la comunidad en general. Abraza la salud y el bienestar. También abrazar, y encender, el espíritu y el interés de los TORONTO 2015 Panamericanos / Parapanamericanos Juegos en la comunidad.

Un campamento de verano de seis semanas para los niños entre las edades de cinco y 15 .. El campamento es doble: académico y deportivo. Es así que está en condiciones de garantizar la continuidad académica y deportiva de los estudiantes durante los meses de verano. Nuestro plan de estudios incluye matemáticas, Inglés, artes y artesanías, clases de natación y gimnasia. Además, se han previsto varias excursiones. Nos asociamos con las dos juntas escolares, (TDSB y TCDSB) para contratar a jóvenes durante los meses de verano. Creemos que al mantener a nuestros jóvenes ocupados, el aprendizaje de una habilidad, y ganar el gasto dinero, van a mantenerse fuera de problemas durante las vacaciones de verano largo. Además, también damos la bienvenida a los padres de los campistas y los otros miembros de la comunidad que quieren trabajar como voluntarios. Nuestro objetivo es contribuir a la construcción de una comunidad fuerte que tiene la pasión, la visión para el futuro, la dedicación, la cooperación y la unidad.

Campamento de verano: campamento que promueve una vida activa y saludable a través del deporte, la actividad física y programas de recreación, tales como danza, artes y artesanías, fútbol y mucho más.

Visita La The Bowen Foundation para más información.
English
**FREE EVENT**

What is the Bowen Foundation?
The Bowen Foundation is a not-for-profit organization located in the city of North York since 2009. The essence of why we exist is, to empower our community. We do this through academic, sports, and social programs.

OUR MOTTO: Knowledge is like oxygen, you cannot live without it.
_____________________________________________

This year, you are invited to join us for our annual community and fundraising event which is intended to raise money to improve our homework club and swimming program.
Our fundraising objective this year is $30,000.00. These funds will be used to purchase a mini-van that will be used as a school bus to pick-up and transport children from their individual schools to various Bowen Foundation venues.

_____________________________________________

Activities:

- Games
- Face Painting
- Fire Truck
- Police Car
- Raffle
- Fashion Show

Silent Auction:

- Bike Jacket
- Coach Purse
- Sharp Blue Ray Player
- Jewellery items
- Many More items!


REFRESHMENTS ON SALE

All proceeds from this event will go to the
Bowen Academy Foundation
The Bowen Foundation
The Bowen Swim Club: empowers community through swimming. Promote cooperation and team spirit amongst swim team members and the community at large. Embrace health and wellness. Also embrace, and ignite, the spirit and interest of the TORONTO 2015 Pan Am/ Parapan Am Games in the community.
A six-week summer camp for children between the ages of five and 15.. The camp is two- fold: academic and sports. It is so positioned to ensure students' academic and athletic continuity during the summer months. Our curriculum includes math, English, arts and crafts, swimming lessons, and gym. As well, several field trips are planned. We partner with both school boards, (TDSB and TCDSB) to hire youths during the summer months. We believe that by keeping our youths busy, learning a skill, and earning spending money, they will stay out of trouble during the long summer break. In addition, we also welcome parents of campers and other community members who want to work as volunteers. Our objective is to contribute to the building of a strong community which takes passion, vision for the future, dedication, cooperation, and unity.
Summer camp: camp that promotes active healthy living through sports, physical activity and recreation programs such as dance, arts and crafts, soccer and more.
Visit The Bowen Foundation for more information.
Page Info
Short Description

Bowen Community Services Inc. is a not-for-profit organization. We exist to empower our community through academic, sports, and social programs.
Recomienda esta pagina a un amigo Visitas

Copyright © 2008 al Presente EnTorontoCanada.com Inc. All Rights Reserved By http://www.EnTorontoCanada.com