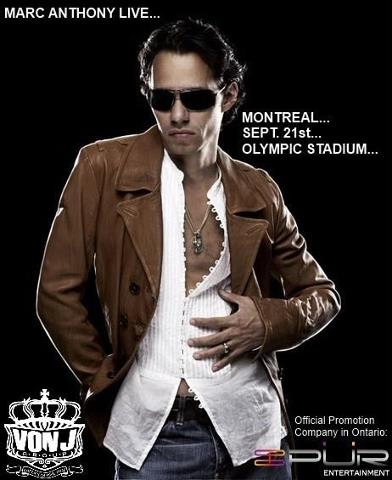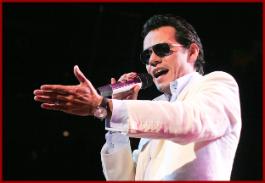 MARC ANTHONY - MONTREAL SEPT. 21st - ICONOS WORLD TOUR
Friday, 21 September 2012 from 6:30 PM to 11:30 PM (EDT)
Montreal, QC

VON J GROUP IS PROUD TO PRESENT:
** MARC ANTHONY **
ONE CITY...ONE NIGHT ONLY.
MONTREAL... SEPT. 21st...OLYMPIC STADIUM...!!!
Thank you for your interest in the Marc Anthony Concert that is going to take place in Montreal on Sept. 21st at the Olympic Stadium. We are expecting over 10,000 fans that night to enjoy a great show and have an amazing time with Marc. Here is the a bit of info regarding the ticket prices that are going to be available exclusively to PÜR Entertainment for this event. All seats have an amazing view of the stage. These tickets will only be available until next Wednesday since all ticket sales are starting on Monday through Ticketmaster. Take advantage of the great seat availability before they are all gone. All the prices that are being provided are part of the TOUR BUS PACKAGE that PÜR Entertainment is providing to all the fans of Marc Anthony from Toronto. If you have any questions regarding the packages, please feel free to contact me anytime.

PÜR ENTERTANMENT
OLYMPIC STADIUM
4545 Avenue Pierre-de Coubertin
Montreal, QC H1V 3N7
Canada

Friday, 21 September 2012 from 6:30 PM to 11:30 PM (EDT)